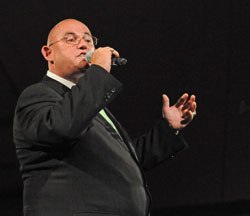 The International Dinner at the Alltech Symposium had a special performance by Ronan Tynan. He's a tenor singer in the classical Irish style. This evening he chose to share his rendition of Somewhere Over The Rainbow.
We had a number of performances during the course of the evening. I wish I could share them all. I think you'll enjoy this one. Here's a little bit of information about Ronan:

Ronan Tynan is truly a modern day "Renaissance Man." Faced with numerous challenges throughout his well documented life, he has persevered with enormous passion and determination. He attributes his success to his faith and the knowledge that the Man Above guides him through every door he opens. Introduced to international audiences as a member of the Irish Tenors, Tynan quickly became known for his unique voice and irresistible appeal. Following his mother's advice to always follow your dreams, Tynan decided to launch a solo career, and has achieved the fame and ado.

You can listen to Ronan Tynan's performance here: Ronan Tynan Sings Somewhere Over The Rainbow
Follow the action on the Alltech Innovations Blog, including photos, interviews and there will be live streaming of certain sessions.