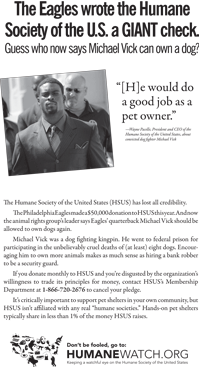 HumaneWatch.org made sure people know about the latest problem HSUS is having. They ran this full page ad in the Sunday New York Times. It criticizes the "recent claim of Wayne Pacelle, the President of the Humane Society of the United States (HSUS), that convicted dog abuser Michael Vick "would do a good job as a pet owner." The ad condemns HSUS for supporting the Philadelphia Eagles quarterback's ownership of dogs and urges all recurring HSUS donors to cancel their memberships and stop giving to the organization. I just love what Dave Martosko and company are doing in making sure people get the truth about this anti animal agriculture organization.

HumaneWatch.org points to the Eagles' $50,000 donation to HSUS in 2010 as one possible motivation for Pacelle's indefensible suggestion that Vick should be allowed to own more dogs. Despite the words "humane society" in its name, HSUS is not affiliated with local humane societies anywhere in America. It spends tens of millions every year supporting a staff of more than 700, lobbyists in all 50 states, and an $11 million executive pension plan. Yet during the past two years, HSUS shared less than 1 percent of its money with hands-on pet shelters.
"It's absolutely shocking that the leader of America's biggest animal rights group would side with a convicted dog fighting felon instead of with helpless pets," said David Martosko, CCF's Director of Research and the editor of HumaneWatch.org.
Within 24 hours of Michael Vick's arrest for running a Virginia dog fighting ring, HSUS began raising money online to "care for the dogs seized" at Vick's home. Wayne Pacelle later admitted to The New York Times that HSUS was not caring for the dogs. Pacelle also recommended that officials "put down" (kill) the animals. Despite HSUS's wishes, most of those dogs have since been successfully rehabilitated.

Read the copy of the ad by clicking on this link

The Eagles wrote the Humane Society of the U.S. a GIANT check. Guess who now says Michael Vick can own a dog? The Humane Society of the United States (HSUS) has lost all credibility.
The Philadelphia Eagles made a $50,000 donation to HSUS this year. And now the animal rights group's leader says Eagles' quarterback Michael Vick should be allowed to own dogs again.
Michael Vick was a dog fighting kingpin. He went to federal prison for participating in the unbelievably cruel deaths of (at least) eight dogs. Encouraging him to own more animals makes as much sense as hiring a bank robber to be a security guard.
If you donate monthly to HSUS and you're disgusted by the organization's willingness to trade its principles for money, contact HSUS's Membership Department at 1-866-720-2676 to cancel your pledge.
It's critically important to support pet shelters in your own community, but HSUS isn't affiliated with any real "humane societies." Hands-on pet shelters typically share in less than 1% of the money HSUS raises.