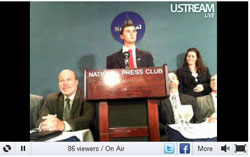 Ten diverse agricultural organizations are conducting a press conference right now in Washington DC to urge Congress to act on estate tax reform during the lame-duck session.
Scott Bennett (pictured), Virginia Tech University student and active participant in his family's livestock operation, did a really nice job speaking on behalf of the National Cattlemen's Beef Association – noting that he was the youngest of the speakers and very concerned about the impact a high "death tax" could have on future farmers and ranchers.
The conference is being live streamed right now on BeltwayBeef.com – thanks to the superior social media skills of NCBA's Mike Deering!