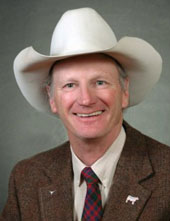 The basic problem with the proposed Grain Inspection, Packers and Stockyards Administration (GIPSA) rule as far as Montana cow-calf producer Bill Donald is concerned is that it is just too vague.
"We can have intelligent people that read it and come up with a very different analysis of what it will or won't do," Bill says. "It's so hard to make a comment about what the rule may or may not do because it doesn't define some things very well."
He does believe the proposed rule has the potential to have a severe adverse impact on value-based marketing programs that producers currently utilize and because it is so vague he fears that it will lead to apprehension on the part of both buyers and sellers going into a year with one of the smallest cattle herds in history. "The market has always responded negatively to apprehension," he says. "If people don't know the playing field, if they don't know what the premium is going to be for a given product or commodity, they tend to pull back and – at least in the short term – that makes for lower prices."
Bill, who is the president-elect of the National Cattlemen's Beef Association, says the most important thing for producers to do right now is to make comments on the proposed rule before the November 22 deadline. "It is going to impact every producer in the cattle industry," Bill said. "Every time the government comes up with a rule like this, it's incredibly important for the people who are going to be impacted to let the governing agency know how it will impact them."
Producers can submit comments directly on-line and more information about the rule and comment period is available on the NCBA website.
Listen to or download my interview with Bill here: Bill Donald Interview