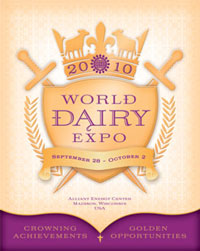 If you missed the 2010 World Dairy Expo, you missed a lot!
Here's some of the posts we did on World Dairy Diary – including audio, video and photos that you are welcome to download or link to.
Amazing Results in Boosting Milk Fat Levels – interview with Dr. Scott Bascom, a nutritionist with Cooperative Plus in Wisconsin.

How Lower Protein Rations Can Increase the Bottom Line – interviews with Dr. Larry Chase with Cornell University and Dr. Bob Stoltzfus with Lancaster Veterinary Associates.
Five Star Dairy Wins Environmental Award – first ever award by Wisconsin Dairy Business Association.
RFID at the Speed of Commerce – using ultra high radio frequency (UHF) to tag identify large groups of moving animals.
Interviews with Dairyman and Dairy Woman of the Year – Don Bennink of Florida and Liz Doornink of Wisconsin.
Precision Feeding of Dairy Replacement Heifers – interview with Pat Hoffman from the University of Wisconsin-Madison.
Award Winning Dairy Credit Scours Protection – Interview with Dave Hartford of Oakridge-Bahler Farm, Connecticut.

Using a Brix Refractometer to Measure Colostrum Quality – $50 investment can be a big help for producers.
Robotic Post-Milking Spray System – See a video of how it works.
New Robotic Feedpusher Video – kinda looks like R2D2!