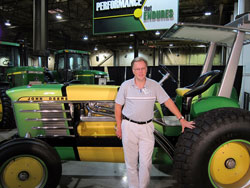 John Deere just announced the winners of their Big Buck Sweepstakes. The big prize winner is Harold Beaver who receives the Chip Foose customized John Deere 4020 Tractor.

As the grand prize winner of the John Deere Big Buck Sweepstakes, Beaver not only won the customized John Deere 4020 Tractor but also met and talked with Chip Foose, who designed and modified one of Deere's most widely used and popular tractor models ever produced. From March through July, the Big Buck 4020 Tractor toured the country as part of the John Deere Drive Green Tractor Experience events.
Beaver filled out the winning entry at the James River Equipment John Deere dealership in Statesville, North Carolina, when he was getting parts for a lawnmower. He thought it was a great idea to use Chip Foose to promote the John Deere 4020.
In addition to the grand prize Foose-customized 4020 Tractor, John Deere is giving away three Gator XUVs as first-place prizes. Recipients of these prizes are: Stephen Hendricks, St. Louis, Mo.; Philip Cripe, North Manchester, Ind.; Robert Leis, Togo, Saskatchewan, Canada.