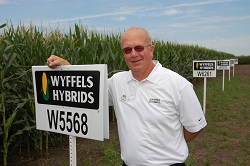 It's an effort to bring high-quality information to corn farmers so they can improve their bottom line. But Bill Wyffels, who is the President and owns Wyffels Hybrids along with his brother Bob, likes to describe the Wyffels Hybrids Corn Strategies 2010 held in a tent on the Cummings family farm just outside of the eastern Iowa town of Malcom a little differently.
"It's kind of a combination of family reunion and state fair atmosphere."
Family reunion … if you have about 600 members who plant corn for a living. And if you're from a family that big (gee, sounds like an Iowa Catholic family from my neighborhood!), there are some family members who you might not even know. Wyffels says they're also trying to introduce themselves to more farmers by setting themselves apart from the big seed companies.
"Wyffels is quite unique. We only sell hybrid corn. We mostly do business in Illinois and Iowa, and the name of the company is kind of a funny name."
But besides the family-owned apsect that lends Wyffels that "funny name," the company makes its mark by its level of customer service … where the farmers they sell to are their friends and partners in business.
"There's more than what's in the bag. There's a personalization. We need to know the needs of every individual farmer. We need to know about his land. We need to prescribe those products and how to use those products to maximize his profitability on his farm."
Wyffels says his company's small size does give it a bit of advantage when going up against some of the big boys in the seed corn business as they're able to have a more personal touch.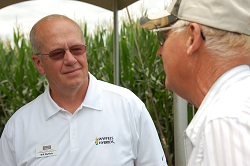 "It's been part of our culture for a long, long time. The office where I grew up was the kitchen table. Farmers would buy seed from my father, and it's kind of ingrained into the other family members."
Wyffels says they started offering this type of event five years ago, when just about 60 growers showed up. Now, even as it's grown to more than 600 corn farmers at each of the two locations where it's offered, Wyffels sees it as another chance to touch people.
You can hear or download my entire conversation with Bill here: Bill Wyffels