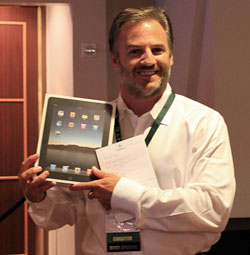 Amid all the research and new uses information being presented at the Corn Utilization and Technology Conference a very important announcement was made.
Colin Crankshaw, GEA Barr-Rosin, was the winner of the iPad drawing. As I understand it he was also the first person to register for CUTC. This drawing was for "early registrants" and I don't think you can get any earlier than that!
So congratulations Coin and I hope you enjoy that bad boy.
This won't be the only iPad that CUTC is giving away. The first place winner of the Poster Contest will also win an iPad.
Don't forget to check out the CUTC Photo Album