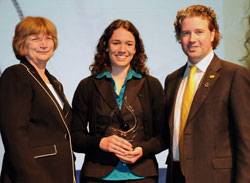 The Alltech Young Scientist winners have been announced. Maybe you had a chance to see it live but if not here are the winners. First up in the Undergraduate Category is Lee-Anne Huber, University of Guelph, Canada.

For the fifth year, and with more than 5000 applicants, global animal nutrition company, Alltech has focused in on their 2010 Young Scientist local winners. The Alltech Young Scientist Award brings together the world's brightest scientific thinkers from colleges and universities across the globe. Alltech, celebrating being 30 years old, has a history of supporting education initiatives as this is the fifth year Alltech has put on their Young Scientist program.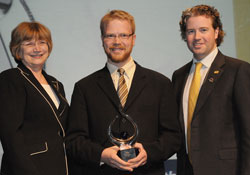 The other big winner in the Graduate Category is Michael Steele, also University of Guelph, Canada.
So Canada has a clean sweep in the competition this year. As you can see above, getting 5,000 entries is big but Dr. Pearse Lyons has made a challenge to get that number up to 50,000!
They're both pictured in between Inge Russell, Alltech and Dr. Mark Lyons, Alltech. You can see a list of the 10 finalists on the Alltech website.