Last night, I attended the NAMA reception for the dozens of professionals who will be judging the Student Marketing Competition that is sponsored by Monsanto. The volunteer judges, along with the student competition committee, are integral to the success of the program. But the program doesn't just give students experience in developing products and marketing campaigns it is also an amazing venue for them to demonstrate their talents and secure their first job.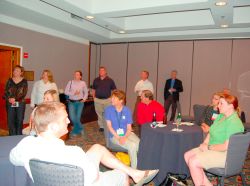 Take for example, Kim Lang who oversees the marketing department for Water Street Solutions. Their most recent hire was a former student competition competitor two years ago. This will be her second year as a judge and she became involved after other judges raved about what a great experience they had. I asked her what piece of advice she had for the competitors and she told me they should be networking with professionals through the entire event. By getting to know some of the companies, their products and their people, they can begin to lay the groundwork for their first job.
You can download (mp3 file) or listen to Kim's interview here: nama-10-lang.mp3
I also spoke with Larry Stoller who oversees national sales for InCountry TV. In his role, he helps to secure programming and advertising for the channel. (Students, did you put them in your media plans?) Larry has been a judge for a few years and he has so much fun that he keeps coming back. He is passionate about the student marketing competition because it gives students a tangible experience. He also has some advice to share: get some good rest and rely on your instincts.
You can download (mp3 file) or listen to Larry's interview here: nama-10-stoller.mp3
A special thanks to the student competition committee members, judges and all the student teams! Good Luck!
2010 National Agri-Marketing Conference Photo Album
AgWired coverage of the 2010 National Agri-Marketing Conference
is sponsored by:

. They know.