AgWired continuing coverage at the National Farm Machinery Show sponsored by:




2010 National Farm Machinery Show Photo Album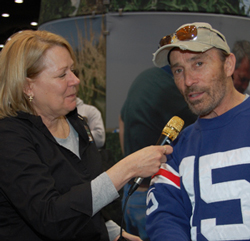 Syngenta sponsors the Championship Tractor Pull at the National Farm Machinery Show, which kicks off each year to Lee Greenwood's "God Bless the USA." This year it kicked off to Lee Greenwood performing his signature song live at the arena and on Thursday morning he was in the Syngenta booth, signing CDs for fans and helping Syngenta kick off a new campaign called "Weeding Out Hunger."
"This is a very important event for the tractor pull and for Syngenta, there's a great cause here and that's feeding America," Lee told me in a real quick interview as he was signing autographs. You can here more from Lee on today's AgriTalk from the NFMS.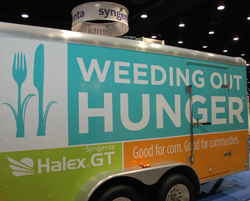 I learned more about the campaign, which is associated with Halex GT herbicide, from Carroll Moseley with Syngenta Crop Protection. "We directly affect and feed the population by controlling weeds in corn, this is a product for glyphosate-tolerant corn," he said. "What better way to relate it to another direct way to impact people more needy than others than to have this Weeding Out Hunger campaign where we are contributing to feeding America affiliates across the United States."
Find out more about the campaign at WeedingOutHunger.com.
Listen to back-to-back interviews with Lee and Carroll in the player below and here's a little video from the Syngenta booth.