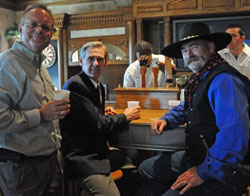 You might look at this picture and say, "That looks like a dangerous group," but you'd be wrong. We're just some lovable guys enjoying a frosty end-of-day beverage in the pub at Shrewsbury Hall. This is the pub next door to the Alltech Lexington Brewing Company. In the photo with me are Head Brew Master, Ken Lee (center) and Trent Loos (right). I had not ever visited the brewing company for Kentucky Ale and arrived shortly before Trent. While I was waiting for him I interviewed Ken. Then when Trent and Sarah Muirhead, FeedStuffs, arrived he took a turn with an interview. Sarah took our picture.
Ken says Dr. Pearse Lyons bought the brewery in 2000. His background is in brewing so it's where his first love is (fermentation). He's continued to develop the brewery with new products. The main one is Kentucky Ale which is a blend of a pale ale and an Irish red ale. Now they're taking it and finishing it in freshly emptied bourbon barrels to make a Bourbon Barrel Ale. The barrels come from local distilleries. Distribution for Kentucky Ale is still pretty local but I'm sure there are plans to grow it outward in the future. Ken says they're going to be challenged to meet demand which will increase when the 2010 Alltech World Equestrian Games take place.
Listen to my interview with Ken here: alltech-symposium-09-lee.mp3
I spoke with Trent about the animal welfare/animal rights issues that seem to be surfacing more and more around the country. We both believe that American farmers care very much for their animals and go out of their way to treat them well. They're being demonized though by groups like the Humane Society of the United States which has no affiliation with your local animal shelter and works hard at sensationalizing isolated incidents for their fund raising efforts for lobbying against animal agriculture. I also got an update on Trent's Pork On A Fork contest. The entry deadline for this contest to win an all expense paid trip to World Pork Expo is this weekend so get your pictures in.
Listen to my interview with Trent here: alltech-symposium-09-loos.mp3