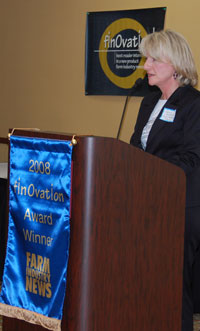 Farm Industry News presented their 2008 FinOvation Awards Thursday night at the National Farm Machinery Show. The awards went to the 16 most innovative products coming to the market, based on reader interest.
Two of this year's awards went to the two company partners who sponsored coverage of the NFMS on Agwired this week.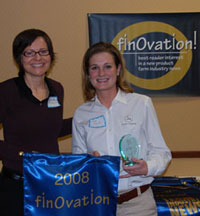 Katie Sheets with John Deere picked up their award for the 7030 Premium and 7030 Mid-Spec tractors. They range from 100 to 140 PTO hp and are loaded with new features that include a glass hatch roof for increased visibility, a higher transport speed of 25 mph, and cab suspension on the premium model.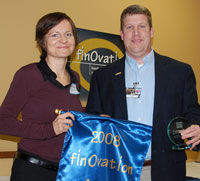 Ed Barry with New Holland received the Finovation award for combines. Both Case and New Holland are claiming to have the largest combines in North America, so rather than argue the point, they both got the award. You can read more about the New Holland big boy in yesterday's post where Ed tells us all about how size matters!
The lovely and talented FIN senior editor Jodie Wehrspann was the award presenter. Thanks to editor-in-chief Karen McMahon for a great awards dinner and ceremony honoring the best of the best! Read about the other FinOvation award winners here.