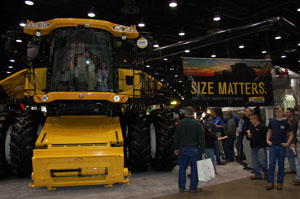 Size definitely matters at the National Farm Machinery Show in Louisville and New Holland is proud to be showing off the largest combine in North America – the new CR9080 with 523 maximum horsepower.
I spoke with Ed Barry, cash crop marketing manager for New Holland, and he told me that it's not just horsepower that makes it the biggest. "It's the largest cab, largest threshing area and largest cleaning area," Ed said.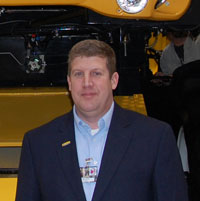 "We have a strong history in combines," he said. "Model year 2010 will be our 35th year in the rotary combine business and our heritage has led us to the future."
This evening, Farm Industry News will officially present a FinOvation award to New Holland's CR9080 as one of the best innovations of 2008 designed to help producers farm more efficiently and more profitably.
Listen to an interview with Ed here nfms09-cnh-combine.MP3
You can also download the interview here: New Holland Combine (mp3).
Watch Ed's presentation on New Holland combines at a Farm Industry News seminar: