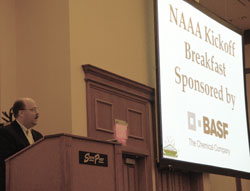 The National Agricultural Aviators Association Convention is officially underway after Dr. Gary Fellows, BASF, welcomed everyone at the kickoff breakfast. BASF is not only sponsoring our coverage of the meeting but is also a major sponsor once again of the convention. He told them that BASF is all about "keeping them in the air."
You can hear Gary's remarks here: basf-naaa-fellows-welcome.mp3
You can also download his remarks here: Dr. Gary Fellows Welcome Remarks (mp3)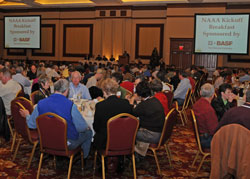 Of course I've already started a photo album for you too: NAAA Convention Photo Album

BASF continued its support of aerial applicators as a diamond-level sponsor of the National Agricultural Aviation Association's (NAAA) annual conference, which kicked off today in Las Vegas, Nev.
BASF technical marketing manager Gary Fellows, Ph.D., led the conference's kick-off breakfast by welcoming attendees and calling attention to the vital role the agricultural aviation industry plays in helping growers succeed.
"The aerial application business contributes significantly to growers' ability to enhance Plant Health for their crops and maximize yield," Fellows said. "The critical role it plays in the growing process impacts us all, not simply as business partners, but as people. They help growers produce the food and fibers we all need."

In addition to sponsoring the NAAA conference for the last decade, BASF supports the association's National Agricultural Aviation Research & Education Foundation (NAAREF), which promotes research, technology transfer and advanced education among aerial applicators, supporting industries, government agencies and academic institutions. BASF is the leading sponsor of the NAAREF among all agricultural chemical companies and Dr. Fellows is an active committee member.
"BASF is committed to keeping aerial applicators in the air through in-depth research and information, and the development of the industry's leading portfolio of products," Fellows said.

AgWired coverage of the 2008 National Agricultural Aviators Association Convention
is sponsored by:

.