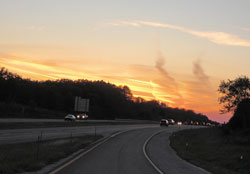 The COSDA meeting is underway here in Topeka, KS. This morning I'll be conducting a training session on blogging, tomorrow on podcasting.
This is what the scene was like driving here last night on I-70. Another beautiful midwest sunset.
I got in just in time for the end of the Colorado hospitality suite. While there I sampled Goat Artisan Vodka. I'm hoping for good things tonight from the Missouri folks!
Before breakfast I spoke with Lisa Taylor, Director of Communications, Kansas Dept. of Agriculture. She filled me in on what COSDA is all about. It's kind of like NASDA but for the communications directors of the state departments of agriculture.
You can listen to my interview with Lisa here: cosda-08-lisa.mp3