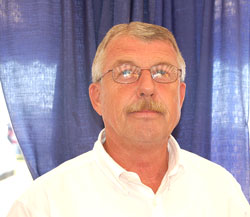 Ag equipment has been running on biodiesel during the Farm Progress Show for a number of years, but this year is the first year machinery will be operating on a B20 blend at the show. Growmark is this year's official Farm Progress Show fuel sponsor. Mark Dehner, Marketing Manger Refined and Renewable Fuels for Growmark, says the company is using a B20 blend of biodiesel at this year's event to showcase the value of alternative fuels for farmers nationwide. It's simple economics he says. Biodiesel generates more use and demand for energy crops, particularly soybeans. And that, he says, means added value for the farmers. Plus, Mark points out that manufacturers are making more equipment that's compatible with biodiesel blends.
"We're seeing more and more engine manufacturers endorse a B20 blend of biodiesel," Mark said.
I spoke Mark about why Growmark believes biodiesel is an important fueling resource for farmers. You can listen to my interview with Mark here: fp-08-dehner.mp3
You can also download the interview with this link.
AgWired coverage of the 2008 Farm Progress Show
is sponsored by:

and