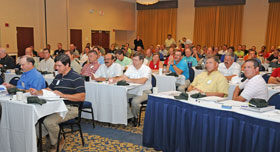 In addition to pork producers, a number of veterinarians attended the Boehringer Ingelheim Swine Health Seminar. I spoke with Dr. Randy Jones who has been in practice in eastern North Carolina for 23 years. I first asked him if he thought his local BI Rep, Dan Johnson, was doing a good job and he said "He does a great job." Dan has played a big role in putting this event on, along with a lot of other people and I would echo that.
Randy says "I think it's always good to get all the segments together." He says this event has been growing and it sure sounds like it has. He says that the impact of the global marketplace has become an issue that all producers face here in the U.S. Input costs are the number one issue but disease is also big on the minds of producers with PRRS still the top of that list.
When it comes to advice for producers he says, "You have to have a plan and stick to it." He says "you're going to fail," but it's his job to minimize those failures. When it comes to looking ahead he says people have to eat and there's more and more of them so he thinks the industry will work its way through the current tough times.
You can listen to my interview with Randy here: bi-nc-08-jones.mp3