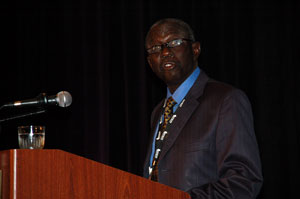 There is money to be made in Nigeria. Dr. Isa Yugada, Executive Governor of the Bauchi State in Nigeria assured every potential investor of that at the 2008 U.S. Africa Agribusiness Forum. Isa highlighted Nigeria's natural habitat for a diverse selection of crops including tomatoes, sorghum, maize, millet, rice, cassava, beans and more. He added that Nigeria possesses poultry, livestock, fish and timber industries and already produces a surplus in certain cash crops including sugarcane, cotton, ginger and sunflower.
Isa acknowledged that there are challenges and risks involved with investing in Nigeria, but he says he believes those risks and challenges are no different than those investors would find in any other country in any other sector.
"I don't believe that there is any country that does not have risks or there is business that you go into that does not have risks," Isa said.
Nigeria is also in the development stages of a new dam. Isa said the dam that his country is currently planning would be the biggest dam in Africa at eight km in length. He said this dam would make over 140,000 hectares of land available for farming through irrigation.
Isa urged investors to take advantage of the opportunities Nigeria has to offer in agribusiness. He assured businesses of both the public and private sectors that Nigeria is an emerging environment for investment and agriculture.
You can listen to Isa's remarks here:
usafag-08-yugada.mp3
2008 U.S. Africa Agribusiness Photo Album
AgWired coverage of the 2008 U.S. Africa Agribusiness Forum is sponsored by: