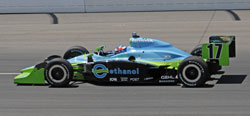 This year's Iowa Corn Indy 250 is over and as usual, ethanol won. Actually, Dan Wheldon, Target Chip Ganassi Racing won the race. You can see plenty of victory lane pictures in my photo album.
However, I was rooting for Team Ethanol. They ran as high as 3rd place but according to driver, Ryan Hunter-Reay, they lost a gamble on fuel strategy. He ran a strong race all day and really wanted to finish on the podium in front of so many fans of ethanol but it wasn't to be. He finished 8th though and maybe he'll get some breaks to go his way next time.
I'm out of here and heading home before getting on the road again tomorrow for the "Transition To a Bio Economy" conference in Berkeley, CA. See you from there.
Don't forget to check out my photo album from all the activities of the past few days.