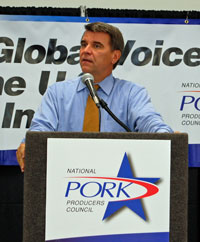 Deputy Agriculture Secretary Chuck Conner visited the 20th annual World Pork Expo on Thursday and spoke with producers about some of the challenges and opportunities facing the industry.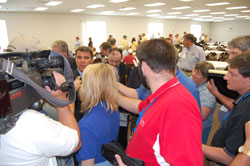 On the opportunity side is exports. "Thanks to this industry for your role in leading US exports to another remarkable level," Conner said. The latest forecast calls for agricultural exports to hit $108.5 billion – $26 billion more than last year. "And pork is certainly doing a big portion of this. We expect the value of pork exports to be up 35 percent from 2007."
Conner discussed the challenges of higher feed costs and actions USDA is taking to help alleviate the situation, such as opening up CRP land for haying and grazing, but he does admit that he is concerned about the effects of the weather on this year's crop. And he talked about the Farm Bill.
After his formal presentation, we had a little "press gaggle" with Conner – which always makes for good photos.
Listen to Conner's speech here: wpx08-conner.MP3
AgWired coverage of World Pork Expo is sponsored by: