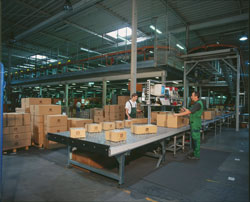 John Deere Werke Mannheim just celebrated it's 50th year last year and Dr. Oliver Neumann says that milestone marked some remarkable accomplishments for John Deere. The most notable, Oliver says, is John Deere's strong presence in the European market. Oliver says in the past 5 years, John Deere has nearly doubled its sales in the European market.
European Beginnings
It was the devastating destruction of World War II that prompted John Deere to enter the European market. Bombings from the war left the facilities of a well-established farm machinery company, Heinrich Lanz, 90 percent destroyed and left its production and research capabilities irrevocably crippled. In an effort to salvage what was left of the company, Lanz chairman William A. Hewitt began searching for a business partner to help rehabilitate the company. In 1956, John Deere decided to enter into the joint venture and thus launched its European presence.

The 1960s marked a period of new innovations and products for the young partnership along with the establishment of new dealers in the western EU and the United Kingdom. In the 1970s, John Deere began investing in training and educational programs and expansion into Eastern countries such as Hungary and Yugoslavia. Then, in the 1980s, the number of farms in Europe dropped from 10 million to 7 million in ten years. Instead of scaling back company operations, John Deere simply found alternative resources for cultivating work, namely capital investments and research and development investments. It was the era of acquisitions for John Deere in the 1990s. The farm machinery company delved into consumer lawn care equipment, forestry equipment and sprayers. The company also developed new training centers and expanded its European Spare Parts Distribution Center.
Pressing on to the Present and Future
Just in 2005, John Deere renewed its products line, meaning 95 percent of its European ag equipment was less than three years old. Now, the company has committed to 20 percent output reduction in carbon dioxide until 2020. John Deere also plans to triple its renewable energy by 2020.