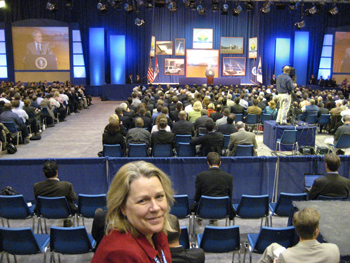 Covering the visit of President Bush to the Advancing Renewable Energy conference in St. Louis made for an interesting day. It was most amazing to me how incredibly tight security was, especially for the press. The general convention attendees had more freedom than the press. The "local media" were confined to a "pen" – that's what they called it – and we were not allowed on the floor where the attendees were. The White House press corps had a special "pen" right up front. We were relegated to a riser behind the chairs. What was cool was being able to post live on Domestic Fuel because we did have live, high-speed internet access. My pictures were not great with our little digital Canon, but usable for the web.
The last time I covered a presidential event was when his daddy was in the White House and he addressed the 1992 American Farm Bureau Federation annual meeting in Kansas City. We had just moved to Missouri from Florida to work for Brownfield Network and I hosted a live telecast of the event with Lynn Ketelsen of Linder Farm Network. There was nothing like this type of security there. But, there also was no high speed internet, digital cameras or digital recorders either.
I had the president's full remarks posted on Domestic Fuel about ten minutes after he finished talking today – probably faster than anyone else did, which is very cool. Is it not amazing how far technology has come in such a short time? It certainly makes me believe that we are capable of making renewable energy the rule rather than the exception in this country within just as short a time period, if not shorter.
Thanks to the Ethanol Promotion and Information Council for sponsoring coverage of the Advancing Renewable Fuels Conference on Domestic Fuel.