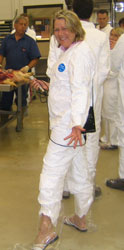 I had to pose for a picture in the ISU wet lab during the Boehringer Ingelheim Vetmedica Inc. PCVAD update meeting with my overalls and plastic booties to keep germs away from either me or the lab, not sure which.
I admit to being a pretty big weenie when it comes to looking at guts, but I held up well for viewing my first ever pig "posting." And here I thought that was what I was doing on the blog!

The posted pictures of the posting are deliberately kept at a distance for anyone else who might be a bit squeamish. I did get some close-ups, but they are most interesting to vets, hog producers, the folks doing MAGIC at BIVI, and haruspices.