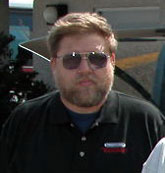 Our convoy is in Omaha, NE now. We've got a morning press conference then a display at the QWest Center. Yesterday we finally found a fuel stop that blended ethanol in its gasoline.
I interviewed the Travel Center of America shop manager, Bill Buettner, and found out that he's also a corn grower and ethanol enthusiast.
Bill says that since they've labelled their pumps and blended ethanol he hasn't really had much feedback from customers. He assumes that's because consumers accept it more now than they used to.
Here's my interview with Bill:

Bill Buettner Interview (2 min MP3)