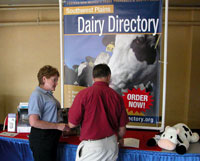 You never know who you'll see when you go to a farm show. I'm here blogging the World Dairy Expo (World Dairy Diary) and the booth next to my little office is for the Southwest Plains Dairy Directory. I posted an announcement about it here on AgWired recently. And the person who's working the exhibit is Kathy Cornett, Chairman of McCormick Company and a past president of the National Agri-Marketing Association I might add.
The Dairy Directory her company has put together is an interesting project and one that shows how companies, and yes even advertising agencies, can and I think, should start looking at ways to grow their business in new directions. Of course McCormick has long been a company that does things in a non-traditional way. Remember when they started AgriTalk for example?
I like that non-traditional stuff. Instead of saying "That's the way we've always done it." I prefer "Let's do something we've never done before." Like a blog about agricultural marketing!