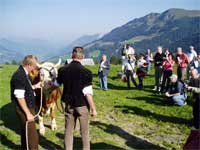 One day of the International Federation of Agricultural Journalists Congress was devoted to choosing a day long (7am to 11pm!) excursion to Swiss farm operations. You could choose between various areas that included mountains and valleys. More than one included Swiss dairy and cheese production.
Cindy and I stayed at the hotel to "work" since we had talking news release projects and of course articles that you've already seen on AgWired. But thanks to the staff and other participants we have photos.
One of the most amazing stops on one of the excursions was to the Fighting Cows. I wish I could have been there to see that. Almost as good though is the video that Mari Bjørke, director of marketing, PR and communication for GENO in Norway, took using her mobile phone. The cows are wearing bells of course so when you hear the audio you can imagine what it must sound like to be right there. Thanks to Greg Lamp, Corn & Soybean Digest, for the story.
You can see the short 9 second video here in two formats: Fighting Cows (.3gp – 91K) and Fighting Cows (.avi – 6MB)

Holy Cow, Fights
Who'd have guessed in the peaceful, serene mountaintop in the canton of Valais, Switzerland, you'd find fighting cows. Really, cows that attack each other just to be the herd queen. That's exactly what IFAJ members saw last week during a farm tour to the grape and fruit area of Switzerland – also home to the fierce fighting breed of cattle called Eringers.
Actually, the cows are rather docile until they're herded into a ring to perform for cheering crowds, says cattleman Jacques Pralong. He owns about 100 of the dual purpose (milk and meat) black cows and regularly enters them in fighting cow shows across the southern part of the country. "They're an aggressive breed and naturally like to fight," he says.
Generally, about 40 cows are entered into an official fight. Much like a championship sporting event, there are playoffs where cows are penned into groups of 10. The top four from each group are then pitted against each other until six have fought their way to the top spots and become winners. Local residents and die-hard fans pay 13 franks ($10) to watch the match, 15 franks ($12) for the final championship fight. As many as 3,000-4,000 spectators show up for one of the events, usually held in the spring and fall. It's even broadcast on television. "I make more money with the fighting than I ever would with the meat or milk," Pralong says.
In a normal herd setting the cows quickly determine their pecking order and select their own queen. From then on, no more fights. "In fact, with humans they're very much like pets," Pralong explains. "It's like having a dog. It can be somewhat mean, but not with his owner." So what do the animal activists think? Pralong says they don't care since the breed is naturally aggressive. "They worry more about us letting them walk on frozen ground where they could slip and hurt themselves," he adds.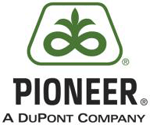 AgWired reports on IFAJ Congress 2005 are sponsored by Pioneer Hi-Bred.