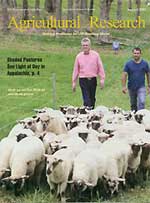 Agricultural Research is published by USDA's Agricultural Research Service. In this month's issue the results are in for a peanut taste test and the United States wins! The competition was China and Argentina. Let me hear you, "We will, we will, rock you!"
Okay. So why's this here? Because . . . Timothy Sanders conducted this project to use the results as a "marketing tool for U.S. peanut exporters." The project was simply titled "European Peanut Consumer Research Study" which could also be called the EPCRS.
A consumer panel of 300 European peanut consumers was used. See the report for the full criteria on how they conducted the study. The findings are being used by peanut exporters and Sanders presented them personally at SNACKEX, the largest European snack and peanut food show. Do we have a snack show here in the U-S? That sounds like one to have to blog through!
After 2 days of taste testing the results were clear. "The data showed that there would be virtually no likelihood of consumer complaints about the flavor of U.S. peanuts," said Sanders. But European consumers would likely identify about 70 percent of Chinese lots and 40 percent of Argentine lots as problematic, the data showed.
I think I'll go get a Snickers bar.