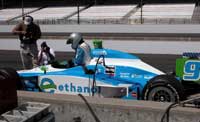 An ethanol car has made laps around the Indianapolis 500 Speedway today for the first time since 1911. The #91 Hemelgarn Racing ethanol car, driven by Jimmy Kite, did 10 laps.
You can listen to my interview with Ron Hemelgarn, owner of Hemelgarn Racing, here: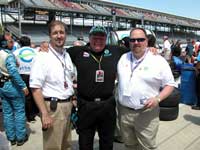 I was trackside with Ron right after the ethanol car finished its laps. I didn't get my picture taken with Ron, but with him left to right are, Tom Slunecka, Executive Director for the Ethanol Promotion & Information Council (EPIC) and Ron Lamberty, Vice President of the American Coalition for Ethanol (ACE).