I'll be leaving today for Indianapolis! It's off to the races. As a start to the news I'll bring you, here's the latest from the Ethanol Promotion & Information Council: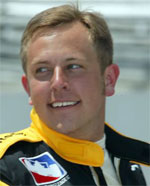 Kite to drive ethanol-powered IndyCar Series car during Miller Lite Carb Day Activities
Ethanol Hemelgarn Racing driver Jimmy Kite will drive an ethanol-powered IRL IndyCar® Series machine during Miller Lite Carb Day Activities on May 27.
Kite, who will make his fifth Indianapolis 500 start on May 29, will drive a Dallara which will be fueled with an ethanol/methanol blend beginning at 10:40 a.m. It will be the first-time an IndyCar Series car has run demonstration laps since the IndyCar Series partnered with the Ethanol industry to become the fuel supplier beginning with the 2006 season.
Ethanol is an alcohol derived primarily from grain. As a clean-burning and renewable fuel that is non-toxic and 100 percent biodegradable, it reduces harmful air pollution and improves racing's environmental footprint. Its high octane rating delivers strong engine performance by helping engines resist detonation so they can run higher compression ratios.
I'll be there and hope to bring you pictures and sound so stay tuned.