I've never learned how to dance but if I make it to this meeting maybe someone will teach me. The event ends with "Western Swing," an evening of dining and dancing featuring the renowned Denver entertainment group "Western Flyer."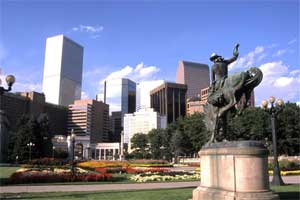 Registration Opens Soon for Cattle Industry Summer Conference
DENVER (April 27, 2005) – A full slate of meetings and activities are in store for cattle producers attending the 2005 Cattle Industry Summer Conference. The conference will be held in downtown Denver, July 26 to 30. It is sponsored by the National Cattlemen's Beef Association (NCBA), the Cattlemen's Beef Promotion and Research Board (CBB), American National CattleWomen, Inc. (ANCW) and Cattle-Fax.
Early arrivals will be welcomed with a day of summer fun on Tuesday, July 26. The NCBA-PAC Golf Tournament will be held at beautiful Arrowhead Golf Club, beginning at 12:30 p.m. Located in Roxborough State Park just south of Denver, Arrowhead Golf Club is one of the most scenic golf courses in the nation. This fund-raising event not only offers participants a spectacular day of golf, but also an opportunity to support the efforts of the NCBA Political Action Committee.
ANCW will also hold a full day of meetings on July 26, then welcomes conference attendees with an ice cream social and affiliate showcase, beginning at 7:30 p.m.
For more information contact Joe Schuele.