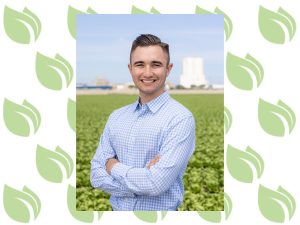 Agri-Pulse Communications, Inc., is pleased to announce the addition of Burke Kennedy as western sales associate for the digital media company.
"Burke will support the continued expansion of Agri-Pulse West subscriptions, advertising and event sponsorship in the California market," said Jason Lutz, Agri-Pulse sales and marketing manager. "We've experienced steady growth since our launch in 2019 and look forward to continuing that upward trend."
Kennedy has a background in the grower/shipper industry and precision agriculture. Most recently, he worked for Green Rubber Kennedy Ag, providing solutions to food processors and growers through various agricultural and industrial product lines. He also worked with PlantTape to increase crop yield, improve efficiency and lower per-acre cost for growers through automated transplanting systems.
He was born and raised in California's Salinas Valley, where his family grows, both conventionally and organically, leafy greens, fresh vegetables and strawberries. Kennedy graduated from California Polytechnic State University in San Luis Obispo, with a bachelor's degree in agricultural business.