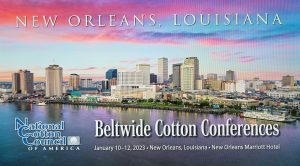 Another successful Beltwide Cotton Conferences is in the books and it was good to see attendance and participation back up to pre-pandemic levels.
"I'm always glad to kick off the year with Beltwide," said Hank Jones, RSJ Ag Services, who once again served as chair for the Consultants Conference. "One of the things that I've always loved about the conference is that it's for the cotton belt so if we need to get somebody from Washington DC or a high end specialist we can do that."
2023 Beltwide Cotton interview with Hank Jones, RSJ Ag Services
7:18
Lori Duncan, University of Tennessee Biosystems Engineering Professor, was chair for the Sustainability Conference. "This is our fifth year as a conference within the Beltwide Cotton Conferences," said Duncan. "We've seen a lot more conversation around transparency with programs like the Cotton Trust Protocol."
Duncan said they also talked more in this year's conference about circularity and going from a linear to a circular economy.
2023 Beltwide Cotton interview Sustainability Conference chair Lori Duncan
4:32
Find photos and lots more interviews from the Beltwide Cotton Conferences in the
Beltwide Cotton Conferences Virtual Newsroom