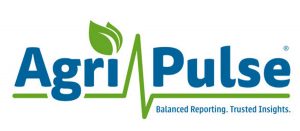 An upcoming Agri-Pulse webinar will address "Farming in an Integrated World," how disparate global crop protection standards disrupt trade, exacerbate food insecurity and restrict farmers' ability to grow and export safe, high-quality food.
"U.S. farmers and ranchers have long been some of the most productive and efficient in the world but they need access to safe, modern farming tools in order to be competitive," said Agri-Pulse Editor Sara Wyant. "This webinar will provide an update on current regulatory challenges that are impacting ag exports around the world."
Speakers include:
• Sabina Neumann, senior trade advisor, USDA Foreign Agricultural Service;
• Paula de Vera, senior policy advisor, Copa-Cogeca in Europe;
• Luis Osorio, executive director, PROCCYT in Mexico; and
• Ted McKinney, CEO, National Association of State Departments of Agriculture.
The webinar will also feature the voice of an American farmer, Jason Sandahl, sharing his perspective on the impact that varied crop protection standards have on their ability to grow and trade. Agri-Pulse Editor Sara Wyant will serve as moderator.
The free webinar takes place January 19 at 1 p.m. ET and is sponsored by the Crop Protection Action Coalition for Trade (CPACT).