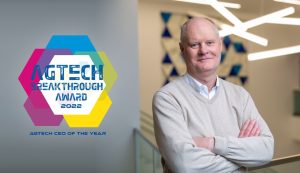 Yield10 Bioscience CEO Oliver Peoples has been selected as 2022 AgTech CEO of the Year by AgTech Breakthrough, a leading market intelligence organization that recognizes the top companies, technologies and products in the global agricultural and food technology markets.
Peoples serves as President and Chief Executive Officer of Yield10 Bioscience, which is developing Camelina as a sustainable platform crop to produce feedstock oil for biofuels, omega-3 oil, and longer-term, PHA bioplastic. He received a Ph.D. in Molecular Biology from the University of Aberdeen, Scotland and is an inventor of over ninety patents and patent applications worldwide.
Under People's leadership, Yield10 is executing a program for seed scale-up and seed production to launch Camelina as a new commercial crop in the U.S. and Canada. Varieties of both spring and winter Camelina have already been identified for initial commercialization in the North American biofuels market. Through a collaboration with Rothamsted Research, Yield10 is developing Camelina varieties to produce omega-3 (DHA+EPA) oil as a sustainable alternative to omega-3 oil extracted from wild-caught fish. The Company is also working to deploy advanced technology to produce the biodegradable biopolymer PHA in the seed of Camelina.
We featured Dr. Peoples in a recent episode of the ZimmCast. Listen to learn more about him and the company.
ZimmCast 696 - Yield10 Bioscience and Camelina (21:01)