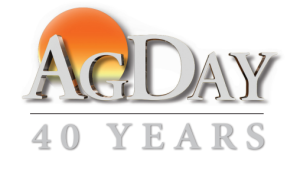 AgDay TV is celebrating 40 years of providing syndicated agricultural television programming for the nation. The show has gone through a few changes over the decades and today reaches more viewers than ever as part of the Farm Journal family.
Viewers across the country watch the agriculture news program each morning on 121 affiliate stations and RFD-TV, reaching more than 53 million viewers each year. "Farm Journal is proud of AgDay's legacy in delivering the news farmers, ranchers and growers across the country need to run their operations," said Charlene Finck, president of Farm Journal. "Our industry-leading broadcast programs reach the largest audience in agriculture and set the standard in reporting the news and issues that are most mportant to America's farmers and ranchers."
AgDay launched on a handful of stations in 1982 by satellite, which was new technology at the time. Farm Journal acquired the show in 1998, adding national television to its industry-leading print publications. Clinton Griffiths has served as host of AgDay for the last 12 years, taking over the news desk when long-time host Al Pell retired in 2010. This year, AgDay added veteran journalist and farm broadcaster Michelle Rook to the staff.
AgDay is one of four industry-leading broadcast programs owned by Farm Journal. Other programs include U.S. Farm Report (acquired in 2007), hosted by Tyne Morgan, and Machinery Pete TV (launched in 2014), led by Greg 'Machinery Pete' Peterson. Farm Journal also reaches America's farmers with AgriTalk (acquired in 2013), the first nationally-syndicated daily radio show hosted by Chip Flory.
To watch AgDay or other Farm Journal broadcast programs, check your local or cable TV listings, go to agday.com or subscribe to Farm Journal's YouTube channel at Youtube.com/FarmJournal.