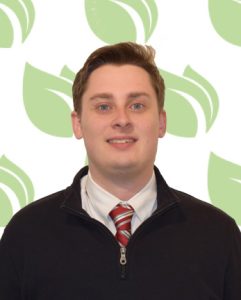 Agri-Pulse Communications is proud to announce the addition of Andrew Huneke as producer of Agri-Pulse Newsmakers, a weekly news program designed to take its audience to the heart of ag policy with members of Congress, administration officials and industry leaders. Huneke will play a central role in scheduling guests, developing graphics, producing all aspects of the show, and interacting with the nation's agricultural community.
"We're very excited with the reception Agri-Pulse Newsmakers has received since launching in February, and now is the perfect time to fuel even more growth by bringing Andrew on board," said Agri-Pulse Founder and President Sara Wyant. "Andrew brings the experience, energy, and passion for broadcast journalism that we were looking for to bring the show to new heights."
Huneke has a variety of experiences in TV production, including as a news and sports producer at WBFF-TV in Baltimore and as a writer and producer with WTTG-TV in Washington, D.C. He holds a bachelor's degree in electronic media and film from Towson University and an associate degree in mass communication from Harford Community College.
"I love bringing stories to light and helping viewers understand complex issues, and I can't wait to bring the skills I've developed to the team at Agri-Pulse," Huneke said. "Newsmakers is off to a great start, and I look forward to working with the rest of the team."