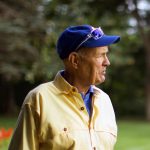 We are sad to report the passing of Don E. Funk, fourth generation seedsman and grandson of seed industry pioneer, Edward J. Funk, who died June 9, 2022 of natural causes, according to his family.
Don became president of Edward J. Funk & Sons at the age of 25. It was later purchased by British Petroleum. In 1999, Don formed a new company, Channel Bio Corp, which is now owned by Bayer and is one of the major providers of corn and soybean seed to the U.S. market.
At a time when most would slow down, Don put his foot to the pedal. An unwavering optimist, Don re-acquired and re-launched the brands Midwest Seed Genetics and NC+ to provide American row crop farmers a true choice, independent of the ever-growing corporatization of the seed industry. His driving mission was to establish a team focused on earning the partnership, season after season, of progressive farmers and the agriculturalists who serve them. The sustained, record-setting growth of the three brands is a testament that Don's relationship-based approach remains valued and vital.
Don's hometown was Kentland, Indiana, and he is survived by his wife Abby, children Matt (Marcy), Dan (Grith), Katya (Mike) and Luke, and grandchildren William, Isla, Jens, Stella, True, and Sasha.