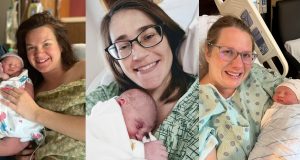 May brought a baby boom to Brownfield's broadcast news team, according to the boss, Cyndi Young-Puyear.
Brownfield has 12 reporter/anchors, five of them are women, and three of them had babies last month!
Left to right in order of birthing, Rhiannon Branch with daughter Kimber Grace born May 12; Nicole Heslip and son Rory Thomas born on May 25; and Amie Simpson with daughter Olivia Michele born on May 28.
Cyndi says, "Although having 3 Anchor/Reporters on leave at the same time creates a great deal of extra work for the other members of the content creating team, they choose to see the Brownfield baby trifecta as a blessing and have gladly stepped up."
Congratulations to all! Meanwhile, we are anxiously awaiting the birth of our fourth grandchild any day now.