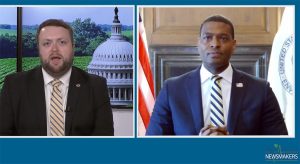 The latest episode of Agri-Pulse Newsmakers is out and the big news maker this week is EPA Administrator Michael Regan.
The Biden administration is approaching a key deadline to publish annual volume targets for biofuel blending. There's also the ongoing effort to redefine the definition of a Water of the U.S. and looming concerns about the loss of crop protection tools through the Environmental Protection Agency's approval processes.
EPA Administrator Michael Regan joins Newsmakers to discuss the work the agency is doing on the long list of food and ag policy concerns at the agency. There's also thoughts from industry leaders like Chris Bliley at Growth Energy, Michael Formica at the National Pork Producers Council, and Richard Gupton at the Agricultural Retailers Association about what the EPA is doing – as well as what they'd like the agency to do instead.
Newsmakers is also available as a podcast and/or you can sign up to get free access to Newsmakers.