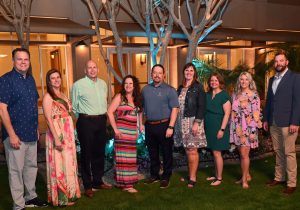 After having to skip a year due to the pandemic, the Crop Insurance and Reinsurance Bureau (CIRB) Emerging Leaders Program (ELP) got back on track for 2021-22 with a brand new crop of bright and talented industry representatives.
ELP is designed for professionals in the crop insurance industry that seek to increase their knowledge and hands-on experience with key issues. Throughout the program, Emerging Leaders receive advocacy and communications training, and have the opportunity to attend three CIRB Executive Committee Meetings.
This year's class was one short of a dozen and nine of them were able to attend last week's annual meeting in California.
Hear why they signed up for ELP and what they have learned in these interviews.
CIRB22 interview with Dave DeCapp, Farmers Mutual Hail Insurance
CIRB22 interview with Jerod Dowell, AgriSompo North America
CIRB22 interview with Brenda Dozier, COUNTRY Financial
CIRB22 interview with Lurinda Gilliand, Rural Community Insurance Service
CIRB22 interview with Sandon Lawrence, American Farm Bureau Insurance Services, Inc.
CIRB22 interview with Ken Ripley, Farmers Mutual Hail Insurance
CIRB22 interview with Colleen Sizemore, Crop Risk Services
CIRB22 interview with Jeff Van Genderen, Farm Bureau Financial Services
CIRB22 interview with Stephanie Wolfe, Rural Community Insurance Services