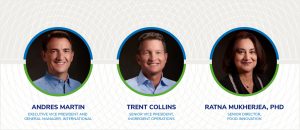 Benson Hill, Inc. has announced senior strategic hires as the company prepares to commercialize its soybean ingredient portfolio and identify new pathways for the growing meat alternative market.
Andres Martin joins Benson Hill as Executive Vice President and General Manager, International, to focus on expanding the company's customer base and introducing Benson Hill's proprietary, non-GMO soybean portfolio to markets outside the United States. Martin brings over 25 years of experience in supply chain operations and agribusiness, most recently as President of Bunge North America and as Head of Grains and Oilseeds at Bunge. Martin is a member of Benson Hill's Executive Leadership Team reporting to Benson Hill CEO Matt Crisp, and is located in Barcelona, Spain.
Trent Collins joins the Company as Senior Vice President, Ingredient Operations. Before joining Benson Hill, Collins held various engineering, manufacturing and operational roles during his 28-year tenure with Archer Daniels Midland, most recently as Global Director, Proteins Technology. Collins will report to Bruce Bennett, President of the Company's Ingredients business segment, who joined the company in July 2021.
Ratna Mukherjea, PhD., joins the Company as Senior Director, Food Innovation. Mukherjea has more than 20 years of experience in clinical and translational research at academic institutions and in the food industry, most recently at International Flavors & Fragrances, formerly DuPont Nutrition & Biosciences.
"At Benson Hill, we have built a category-defining company striving to make a meaningful environmental and social impact in food production by evolving beyond the traditional commodity system," said Matt Crisp, Chief Executive Officer of Benson Hill. "Andres, Trent and Ratna share our bold vision and bring extensive experience and diverse expertise to drive execution and innovation across our company."