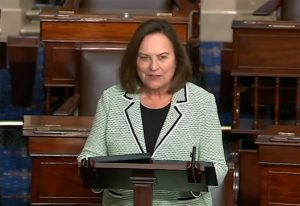 U.S. Senators Deb Fischer (R-NE) and Amy Klobuchar (D-MN) have introduced bipartisan legislation to create a program within USDA to provide loan financing to farmers and ranchers interested in purchasing precision agriculture equipment.
Sen. Fischer spoke on the Senate floor Monday about the Precision Agriculture Loan (PAL) Act, highlighting the importance of increasing the adoption of precision agriculture technologies for agriculture producers, rural communities, consumers, and the environment.
"This would be the first federal loan program dedicated entirely to precision agriculture," said Fischer. "Instead of paying upwards of 5 percent in interest, producers would be eligible for interest rates lower than 2 percent through the new program with loan terms from 3 to 12 years in length."
The PAL Act would establish the Precision Agriculture Loan program within USDA's Farm Service Agency. The program would offer low-cost and long-term loans to agriculture producers who want to adopt precision agriculture technologies but can't afford to through traditional financing. These loans would cover any precision agriculture technology that improves efficiency or reduces inputs.
Listen to Sen. Fischer on the Senate floor.
Sen. Deb Fischer Precision Ag Loan Act
(9:23)