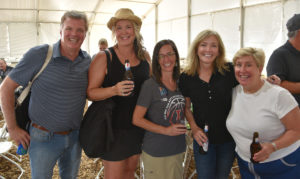 It is a beautiful day for a farm show in Illinois. However, I'm on my way back to ZimmComm World Headquarters in Cantonment, FL. This has not been easy since my Springfield, IL flight was cancelled this morning and I'm now on a flight out of St. Louis, MO.
At the end of the day yesterday the Chicago, Gateway, Heartland
& Mid-America Chapters of the National Agri-Marketing Association got together for a reception during the Farm Progress Show. Here are some of our reception attendees having fun and enjoying some friendly camaraderie.
Speak of NAMA, the annual NAMA Fall Conference will be held in St. Loui, MO, October 4-6. I'm planning to attend and hope you will too. Registration is open.