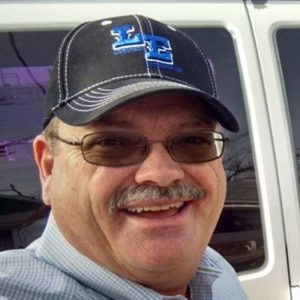 Farm broadcasters around the country are saddened to hear about the passing of Brian Allmer, 55, of Briggsdale, Colorado on Thursday, August 26.
Brian was always involved in agriculture; managing the family farm, working at Lextron Animal Health, Colorado Equipment and then for 1010 KSIR radio. He was a trailblazer in ag radio, creating The BARN™ (Brian Allmer Radio Network), FarmCast Radio™, and Colorado Ag News Network™. He participated in FFA and 4-H as a youth and continued supporting those organizations professionally throughout his life. Brian was a member of the National Association of Farm Broadcasting (NAFB), the Colorado FFA Foundation, the Colorado 4H Foundation, the Colorado Farm Show Committee and many more organizations.
He is survived by his wife of 34 years, Connie Allmer; children, Samantha (Nate) Munson; three grandchildren and Tucker Allmer (fiance Lindsay Miller); mother, Lillian Allmer; brothers and sister Gerald Allmer, Steve (Penny) Allmer and Brenda Durland; uncles and aunts, Duane, Bonnie and Eddie Durland, Arlene Neese; numerous cousins, nieces and nephews.
Brian believed heavily in the investment of the youth of the world, our nation, our state and our local communities. His countless hours and unsurpassed dedication to the success of this insurmountable and noble task he took on with great pride and heart. The numerous individuals he impacted in his wake is simply unfathomable.
A visitation will be held from 6-8 p.m. Wednesday, September 1, 2021 at Adamson. Life Celebration to be held at 1 p.m. Thursday at the Island Grove Event Center, 501 N. 14th Avenue, Greeley, CO 80631. Memorial gifts may be made to "Brian Allmer Memorial Ag Media Scholarship Fund" in care of Adamson, 2000 47th Ave., Greeley, CO 80634. Friends may leave condolences at AdamsonCares.com.