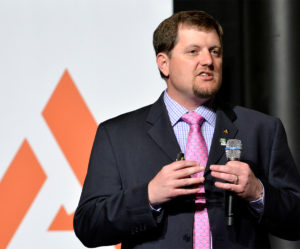 Innovations in technology and nutrition are helping farmers around the globe protect the health of both their pigs and our planet and this week's Alltech ONE Ideas Conference features the latest information on how producers can improve their productivity, profitability and the biosecurity of their farms.
"We have really interesting topics coming from all over the globe," says Russell Gilliam, Alltech US Swine Business Leader. "This is pig industry focused and pigs are produced all over the world."
Some exciting topics on the Pig Track this year include High-Rise Piggeries: The Future of Production and Smart Barns: Improving Pig Production with Better Tech.
The Alltech ONE Ideas Conference starts TOMORROW. Listen to this interview with Gilliam to learn more about what's in store for pig producers.
Alltech ONE Pig Track - Russell Gilliam, US Swine Business Leader
(7:49)