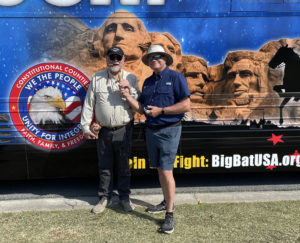 ARISE USA The Resurrection Tour stopped in Milton, FL this past Saturday. The event was set up at Jernigan's Landing right on the Blackwater River. It was a beautiful day and people seemed to be having a lot of fun. There was live music on stage and then speakers, including Robert David Steele, who masterminded this 84 stops in 50 states tour. I spoke with Robert before the program started. He describes how the tour has been put together and what he hopes to accomplish as a result of this grass roots movement. And, yes, that's the Golden ZimmComm Microphone being put to use.
This tour is all about faith, family and freedom and embraces a diversity of people who share the vision of local support to get our country back to the values that made it the great nation it is.
You can listen to my interview with Robert here: Interview with Robert David Steele (5:49)
Robert says the tour is entirely dependent on donations which can be made here.
You can find plenty of photos from the event here: 2021 ARISE USA The Resurrection Tour – Milton, FL Photo Album