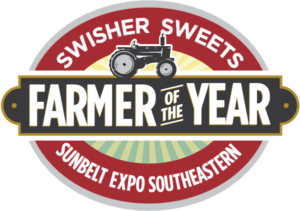 The 2020 Farmers of the Year in 10 Southeastern states were able to lend a helping hand to charities in their areas, thanks to an opportunity provided by Syngenta.
Syngenta gave $5,000 in donations in $500 increments to the charity chosen by each farmer in the 2020 Swisher Sweets/Sunbelt Expo Southeastern Farmer of the Year program.
"These farmers contribute to the health and well-being of their local communities day in and day out, so we found it fitting to express our gratitude by also giving back to their communities with a donation to service organizations near and dear to their hearts," said Pam Caraway, Syngenta communications lead. "Agriculture is an industry of passion, dedication and sacrifice, characteristics exemplified by each of the winners selected, and we are proud to sponsor this award in recognition of their achievements."
Top farmers from Alabama, Arkansas, Florida, Georgia, Kentucky, Mississippi, North Carolina, South Carolina, Tennessee, and Virginia are recognized each year at the Sunbelt Ag Expo, but the 2020 Expo was cancelled due to COVID. So the 2020 State Winners will be recognized, and an overall winner will be announced at the 2021 Sunbelt Ag Expo, which is scheduled to be live and in person Oct. 19-21 in Moultrie, Georgia.
The 2020 State winners are:
Thomas Ellis, Fort Deposit, Alabama
Jamie Anderson, Lonoke, Arkansas
Rick Roth, West Palm Beach, Florida
Lee Nunn of Madison, Georgia
Stephen Kelley of Bardwell, Kentucky
Joe Edmondson, Vardaman, Mississippi
James Lamb of Clinton, North Carolina
Bob Hall, York, South Carolina
Jay Yeargin of Greenfield, Tennessee
CJ Isabell, Rockville, Virginia