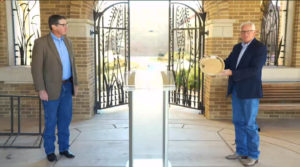 At last week's virtual Beltwide Cotton Conferences, BASF sponsored two prestigious professional awards: Cotton Specialist of the Year and Cotton Marketer of the Year.
The Joseph J. O'Neill Cotton Marketer of the Year award was presented to Barry Evans of Texas. The award is sponsored by BASF and ICE Futures (formerly the New York Cotton Exchange). BASF's Kenny Melton presented the award to Evans as it was announced by O.A. Cleveland of Mississippi State University.
"As a farmer, we never think we're very good at marketing so to receive this, it is very humbling. It's very nice to be recognized," said Evans, who farms full time in Swisher County, Texas.
BASF also named Dr. Seth Byrd, an agronomist with Oklahoma State University Cooperative Extension, the 2021 Cotton Specialist of the Year during this year's virtual conference.
Listen to the Marketer Award presentation here:
2021 Beltwide Cotton Marketer Award 2:39