The National Cotton Council is pleased that USDA's Agricultural Marketing Service will be collaborating with the Georgia Department of Agriculture to study the significant increase in seed coat fragments being found in 2020 season Southeast cotton classing samples.
The AMS Macon, GA Classing Office has reportedly classed 2.2 million samples, of which approximately 895,000 contained seed coat fragments. In addition to seed coat fragments, a portion of samples also contained whole cotton seed.
"This significant increase in seed coat fragments has caused obvious concern around the region and questions about the possible cause as well as the cotton classing process," said Georgia Commissioner of Agriculture Gary Black. "We are working closely with USDA and industry experts to identify the cause of the issue and potential solutions.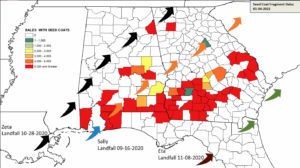 Vice President of Economics and Policy Analysis Jody Campiche noted an unprecedented level of seed coat fragments in the southeast during her cotton market outlook at the Beltwide Cotton Conferences this week. "The latest estimate for the seed coat percentage damage in Alabama is 24 percent of the crop, in Florida it's 53 percent, and in Georgia it's 41 percent."
Dr. Campiche used a chart in her presentation that shows the path of the two late season hurricanes Sally and Zeta, and says they believe the seed coat fragment increase is related to the specific timing of the hurricanes and the stage in the crop cycle when they came through.
2021 Beltwide - Jody Campiche, NCC, seed coat fragments
1:58